Buy adjustable modular column formwork
---
Adjustable modular column formwork from PASCHAL
The adjustable modular column formwork is a steel frame formwork system whose panels are put together in accordance with the so-called windmill vane principle. Square and rectangular column cross-sections with an adjustment range from 20 cm to 50 cm and 5-cm gradation can be cast with four panels at a time.
The system is designed to build column forms in varying lengths, widths and heights in a short time using a small number of light panels.
Our product range includes panel heights of 150 cm, 125 cm and 100 cm that can be assembled on top of each another depending on the height of the column to be concreted.
Overview of all the benefits of our adjustable modular column formwork:
Formwork without the need for a crane - even the largest formwork panels can be handled easily by two people
Maximum variability - thanks to locking screws connections in a 5-cm modular pattern
Even increased surface demands are not a problem - a chamfer angle or sealing tape can be mounted at the element joint if there are increased demands placed on the concrete surface (edge)
Attachment options for accessories - supports, platform brackets or crane mountings can be easily attached to the panels
Together with PASCHAL for successful formwork projects
We would be delighted to advise you and help you find the right products for your project. We can also assist you at any time with enquiries about renting column formwork or other formwork systems and we would be happy to prepare an individual quotation for you. Please get in touch!
Email kundenservice@paschal.com
Phone +49 (0) 78 32 / 71-0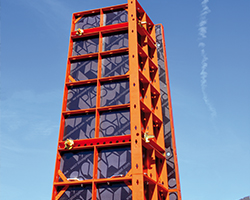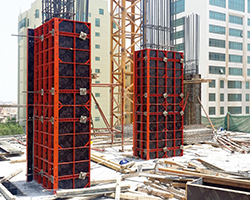 ---